Amy Rich and David Clark volunteer their time giving out boxes of bread at the Utah Food Bank in Salt Lake City on Wednesday, Dec. 5, 2012. Food insecurity rates jumped up to nearly 10% in Utah at points during the pandemic due, in part, to food assistance becoming difficult for some to access. (Laura Seitz, Deseret News)
SALT LAKE CITY — Utah had the third-lowest food insufficiency rate in the nation early in the pandemic, but the state saw rates soar until nearly 1 in 10 residents experienced hunger during the winter, according to new data from the Food Research and Action Center.
"COVID just really shook up the emergency food system, and so what was revealing to us over this last year was just how dynamic it was — there were some rural communities who didn't see much of increase in demand for emergency services while other parts of the state saw huge spikes," said Gina Cornia, director of Utahns Against Hunger.
On the Food Research and Action Center's new interactive dashboard, state-by-state data on food insecurity is available for two-week periods since last August. Data was calculated using the U.S. Census Bureau Household Pulse Survey, according to the center.
During the first two weeks for which data is available in August of 2020, 5.3% of Utahns faced food insecurity, the third-lowest rate in the nation at that time. But rates quickly rose in the state and across the country. In mid-September, 6.5% of Utahns were food insecure; by late October, the rate was 8.3%; and by late November, 9.8% of residents were described as food insecure, the data shows.
"I think early on in the pandemic, we saw some increases in programs like the (Supplemental Nutrition Assistance Program). Utah was one of the only states that saw our SNAP caseload dip, and that was largely due to the $600 in unemployment benefits, but that didn't really reach everyone," Cornia said.
Food insecurity spiked especially in marginalized communities in Utah, Cornia said, as accessing community food resources became more difficult due to social distancing requirements and limited operation hours.
"And I think that shows in the data, that we showed increases in food insufficiency," according to Cornia
She noted that a spike in food insecurity at the end of 2020 could have been due to the change in the enhanced unemployment benefits put in place earlier in the pandemic.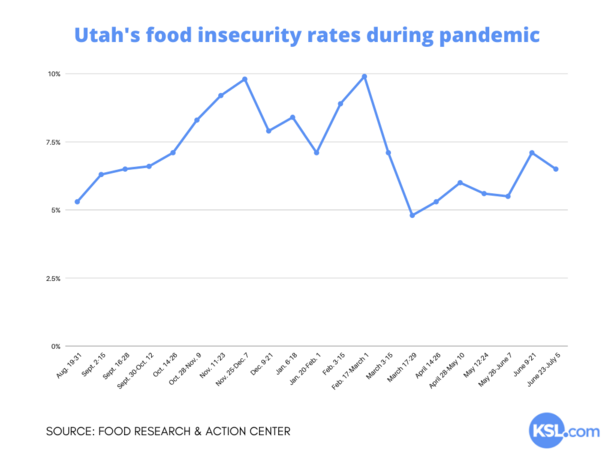 "I think that's the other unique thing about this data — and I think we'll be looking at it for a long time — is that this was really happening in real time, it was a poll census survey data that they were asking people about their current situation," Cornia said.
"It really demonstrates how dynamic people's access to food is, and it's all really dependent on their income," she said.
Such data typically doesn't became available to the public until a year after the federal government gathers it.
While food insecurity rates at some points during the pandemic look particularly high near 10%, Cornia said the state's seen worse since the U.S. Department of Agriculture began tracking food insecurity about 20 years ago.
---
We're certainly in a better position than a lot of states because our economy is doing really well, but even with a strong economy we still have way too many people who are experiencing food insecurity.
–Gina Cornia, Utahns Against Hunger
---
"We're certainly in a better position than a lot of states because our economy is doing really well, but even with a strong economy we still have way too many people who are experiencing food insecurity," Cornia said.
She said the data highlights the need for working households to receive enough pay that they don't need to access nutrition assistance programs. Federal nutrition programs could also be strengthened to make them more accessible to households that can't work due to disabilities or other issues, Cornia said.
"What we learn out of this pandemic is that we need to make sure that everyone has access to food and that the public policy that we put in place does not create barriers for people," she added.
The new Food Insecurity Task Force, which was created by the 2021 Legislature, met in late June to discuss solutions to hunger in the state. It will report to lawmakers later this year.
×
Photos
Related Stories
More stories you may be interested in