PROVO — Zach Wilson kept up his torrid offensive pace to start his junior season, throwing for 236 yards and two touchdowns, and running for another score Friday night against Louisiana Tech.
And that was just in the first half.
Wilson, who completed 18-of-19 passes for the break, finished with 325 passing yards, 43 rushing yards and five total touchdowns as No. 22-ranked BYU cruised to a 45-14 win over the Bulldogs at LaVell Edwards Stadium.
Gunner Romney caught seven passes for 101 yards and a touchdown, and Dax Milne added 89 yards on seven receptions for the Cougars (3-0), who got 93 yards and a touchdown from Tyler Allgeier.
Wilson set a school record with a 92.3% completion percentage, and now owns school records in the category for games with at least 15 pass attempts and 25 attempts.
"He ran the ball well, too," BYU coach Kalani Sitake said of his junior signal caller. "We've been really excited to get Zach going; when he's clicking, we've seen him do it in spurts. We just know when you have a guy with great work ethic who is willing to sacrifice a lot for his teammates, they'll eventually want to follow him.
"We saw a lot of guys grow up in this game, and make some big-time plays — not just with the ball in their hands. And a big part of that is to have a quarterback to lead the way with his work ethic."
Luke Anthony threw for 191 yards, two touchdowns and an interception for Louisiana Tech (2-1), including three passes for 82 yards and both scores to Smoke Harris. But the Cougars held the Bulldogs to 74 yards on the ground and out-gained the visitors 513-313.
After having never thrown for more than 300 yards prior to 2020, BYU's junior quarterback has done it two weeks in a row.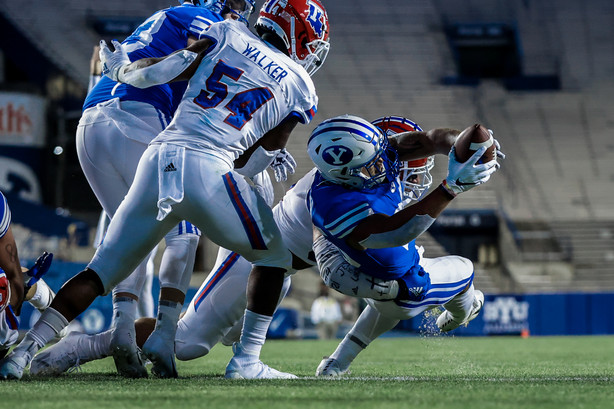 BYU's Tyler Allgeier runs for a touchdown against Louisiana Tech, Friday, Oct. 2, 2020 in Provo, Utah. (Photo: Jaren Wilkey, BYU Photo)
"They're a very good football team and Zach was incredibly accurate tonight. He was really impressive sitting there watching him on the field," Louisiana Tech coach Skip Holtz said of Wilson. "I think he throws the ball very well, he's very accurate and he was really mature in how he handled their offense tonight. I was really impressed with him.
"We were dropping eight and there were guys running wide open. But you know, he still had to hit them. He still had to find them and he did that. I think he's a very good quarterback, very seasoned, he's been in this program and he's doing a really nice job. There's a reason he's put up the number of yards and points that this football team has. I think he's a very, very talented quarterback."
But it wasn't just Wilson who strung together the offense Friday night. The junior sprayed eight different receivers with passes, including an 18-yard screen pass to Masen Wake that the former Lone Peak fullback used to hurdle a defender and bounce off six others before being dragged to the ground.
To borrow a basketball term, Wilson was "in the zone." So, too, were his receivers.
"I think being in the zone is a thing for a quarterback. That's where you want to be," Wilson said. "But really, when I'm in the zone, it's not about me but the whole team. I feel like the whole team was in the zone."
Through three games, BYU has outscored its opponents 148-24. Those three opponents — Navy, Troy and Louisiana Tech — are a combined 4-0 against teams not named BYU, as well.
Wilson set up the opening score, a 9-yard touchdown run, with a 39-yard strike to Milne that put the Cougars up 7-0 after less than five minutes.
The BYU defense didn't carry an early shutout, giving up a 66-yard catch-and-sprint by Harris for the Bulldogs' opening score midway through the first quarter.
That was the last time, essentially, the Bulldogs got the best of BYU's defense.
Keenan Pili and Isaiah Kaufusi each had a team-high six tackles, and Tyler Batty had three of the Cougars' six tackles for loss for a squad that also secured two picks through Troy Warner and Max Tooley.
"He's going to be really good. The hardest part about Tyler Batty is that I had to wait for him to complete his mission," Sitake said of the Payson High product. "You have to credit the D-line for all their hard work. We did a lot of three-man rush, because we can. We made things difficult for LA Tech, an explosive offense."
Two teams that averaged 50 points per game through their first two games didn't start fast. But the Cougars found the gas pedal soon enough.
Wilson hit Carter Wheat with a 23-yard score — his second-straight game with a touchdown to a first-year tight end — then set up Allgeier's 1-yard scoring plunge with an impressive 22-yard throw to Gunner Romney that fell out inside the 1-yard line.
After a 37-second touchdown drive with two minutes left in the half ended with Romney's 22-yard touchdown, the Cougars cruised to a 28-7 lead at the break.
Wilson added a pair of rushing scores in the second half to help BYU cruise to its third-straight win.
Scoring summary
First quarter
10:02 — BYU: Zach Wilson, 9-yard run (Oldroyd kick)
6:51 — LAT: Smoke Harris, 66 yards from Luke Anthony (Barnes kick)
Second quarter
10:34 — BYU: Carter Wheat, 22 yards from Wilson (Oldroyd kick)
5:07 — BYU: Tyler Allgeier 1-yard run (Oldroyd kick)
0:44 — BYU: Gunner Romney, 22-yard pass from Wilson (Oldroyd kick)
Third quarter
11:35 — BYU: Wilson 1-yard run (Oldroyd kick)
7:19 — BYU: Oldroyd 45 field goal
Fourth quarter
13:25 — BYU: Wilson 14-yard run (Oldroyd kick)
4:58 — LAT: Harris, 4 yards from Anthony (Barnes kick)
Final — BYU 45, Louisiana Tech 14
×
Photos
More stories you may be interested in