WASHINGTON (Sinclair Broadcast Group) — Facebook founder and CEO Mark Zuckerberg has spent the last few weeks aggressively defending the company's policies on political advertising, but some of his employees are now among those raising concerns that his commitment to free and open debate will give candidates license to lie with impunity in the 2020 presidential campaign.
"We strongly object to this policy as it stands. It doesn't protect voices, but instead allows politicians to weaponize our platform by targeting people who believe that content posted by political figures is trustworthy," said a letter to Zuckerberg signed by more than 250 Facebook employees obtained by The New York Times.
Last month, Facebook explicitly enumerated what it says has been its policy for a while that it will not fact-check ads run by political candidates and it will allow them to make claims its third-party fact-checking partners have already deemed false.
"To use tennis as an analogy, our job is to make sure the court is ready – the surface is flat, the lines painted, the net at the correct height. But we don't pick up a racket and start playing. How the players play the game is up to them, not us," Nick Clegg, vice president of global affairs and communications said at the Atlantic Festival in September.
Other social media platforms like Twitter and YouTube have similar policies on political speech, but the vast reach of Facebook ads and the enormous sums of money candidates spend on the site have led critics to single out its approach. Former Vice President Joe Biden's 2020 campaign sent letters to all three sites earlier this month in an unsuccessful effort to get an ad from President Donald Trump's reelection campaign removed.
"Facebook already helped elect Donald Trump once because they were asleep at the wheel while Russia attacked our democracy — allowing fake, foreign accounts to run ad campaigns to influence our elections," said Sen. Elizabeth Warren, another 2020 Democratic candidate, in response to Facebook's decision to leave the Trump ad online.
Zuckerberg and other Facebook executives have publicly stood by the policy in the face of a growing backlash primarily coming from Democrats who fear President Trump's campaign will use the platform to spread misinformation about their eventual nominee.
"We don't fact-check political ads. We don't do this to help politicians, but because we think people should be able to see for themselves what politicians are saying," Zuckerberg said in a speech at Georgetown University earlier this month, though he added content that incites violence or encourages voter suppression would not be allowed.
On a media call about 2020 election security efforts last week, the Facebook founder fielded numerous questions from reporters about the policy, arguing voters should be given the opportunity to decide what is credible.

"We don't do this to help politicians," Zuckerberg insisted. "That's not the point. The point is that in the democracy we think that people need to be able to see this content."
The letter from Facebook employees reported by The New York Times Monday warned the impression all this has left with the public is that the company is comfortable profiting off deliberate misinformation campaigns by people in positions of power.
"Misinformation shared by political advertisers has an outsized detrimental impact on our community. We should not accept money for political ads without applying the standards that our other ads have to follow," the letter said.
Facebook's policies have already had some unusual results. In an effort to illustrate what it sees as the absurdity of allowing candidates to knowingly lie in ads, Sen. Warren's campaign created an ad falsely claiming Zuckerberg had endorsed Trump.
Last week, a group calling itself the Really Online Lefty League spent $100 promoting an ad that spliced together sound from Republican Sen. Lindsey Graham to make it appear that he supported the liberal Green New Deal proposal. Facebook removed the video because it was funded by a political action committee rather than a candidate.
The treasurer of the Really Online Lefty League, Adriel Hampton, has now registered as a candidate in California's 2022 gubernatorial election specifically so he can run false ads about Trump, Zuckerberg, and other Facebook executives.

"The genesis of this campaign is social media regulation and to ensure there is not an exemption in fact-checking specifically for politicians like Donald Trump who like to lie online," Hampton told CNN Monday.
While Facebook has been the target of much recent criticism, its approach to political ads is not much different from broadcast TV networks.
"For cable and broadcasting, if it's what's considered 'candidate use,' which is an ad bought by the campaign, the candidate appears in it, and it has a disclaimer that says 'paid for by…', then the candidate can say or show or do whatever he or she wants," said Tobe Berkovitz, who worked as a political media consultant for 30 years and now teaches advertising at Boston University.
Under Federal Communications Commission rules, broadcast stations cannot censor candidate ads over accuracy concerns. They have more leeway with third-party ads produced by political action committees and advocacy groups.
"While the FCC regulates false advertising for products and services, there's really no restrictions on false ads with regard to political advertising. It does really become a First Amendment issue," said Patrick Meirick, director of the Political Communication Center at the University of Oklahoma. Social media sites are not required to follow the same rules, but their policies are largely consistent with them.
Facebook critics note cable network CNN refused to air two recent Trump campaign ads because they included false claims about Democrats and the network's anchors. During the 2018 midterm elections, some outlets, including Facebook, also balked at running a Trump ad that vilified undocumented immigrants because it violated their content standards.

Complaints about inaccurate claims in political ads are not new, but experts say they have taken on fresh urgency in the wake of the 2016 election. Democrats believe a Russian misinformation campaign targeting nominee Hillary Clinton helped President Trump eke out a slim victory, and they worry social media platforms and users are unprepared for what is coming in 2020.
"I worked in the 80s when you had all sorts of horrific, vicious advertising," Berkovitz said. "Everybody wrung their hands and said this is the end of democracy, and that was the 80s. It's just sort of the same old song, but now it's being streamed instead of put on a phonograph."
Some evidence suggests rigorous fact-checking could influence the content of ads. Meirick's research has shown the presence of newspaper fact-checking in Senate races have led campaigns to produce more honest ads, though not necessarily less negative ones. Ad watches that explicitly criticized campaigns for falsehoods appeared to have the biggest impact.
"The movement toward fact-checking of political ads really took off after the 1988 presidential election, so I think the concerns about misinformation on Facebook in 2016 are a big reason we're seeing this now," he said.
In their letter to Zuckerberg, Facebook employees offered several suggestions for what they believe would be a more responsible approach to political ads, including distinguishing them more clearly from regular posts, limiting micro-targeting of audiences, and imposing spending caps for each candidate. They also argued Facebook should make clearer on the site that any political ads users see have not been fact-checked.

Experts say this is a difficult needle for Facebook to thread, and there are no perfect solutions. Doing nothing amounts to an implicit admission the platform can be used to spread misinformation, but restricting content would be complicated and difficult to implement effectively.
"I think for them, in a sense, saying we're going to let voters decide what information they want to accept and not accept, leave it up to them, sort of crowdsource the solution, is not indefensible… It's just not very satisfying," said Michael Franz, co-director of the Wesleyan Media Project, which tracks political ads in federal elections.
Others are more than unsatisfied with the completely hands-off approach.
"If you want to be total doom-and-gloom, this is the way democracies die," said Paul Stekler, a former political consultant and Emmy-winning documentary filmmaker who teaches at the University of Texas at Austin.
Social media sites say they do not want to take on the role of arbiter of truth and fairness in political speech, and efforts they have made to police speech in the past have proven controversial. Facebook and other platforms have often come under fire from conservatives for a supposed liberal bias in their content decisions, and rejecting Trump ads due to accuracy concerns would add fuel to that fire.

"To me, the whole contretemps is beyond a slippery slope," Berkovitz said. "To start policing what a huge conglomerate like Facebook or Google thinks is false, thinks is true to me is highly problematic."
Stekler suggested the other side of the slope is just as slippery, though. If the priority is truly fostering free and open debate, it becomes harder to justify removing any content users find objectionable.
"You could use the exact same argument: why don't they have all the white nationalist stuff on there and people can make their own choices?" he said.
One option favored by many Facebook users would be to reject political advertising entirely, as platforms like Pinterest and TikTok have. A poll conducted by CivicScience last week found 71% of Americans believe Facebook has a responsibility to fact-check political ads and prohibit those it deems false, and 73% would support banning all political ads from the site.
Other research has also shown growing exhaustion with political content on social media. A June 2019 Pew Research Center poll found only 15% of U.S. adults like seeing political posts and discussions on social media and nearly half are "worn-out" by them.
Political posts and ads are likely to become even more ubiquitous in the months ahead as presidential candidates step up their spending on social media. According to Franz, Democratic candidates and President Trump's reelection campaign have already spent a combined $80 million on Facebook and Google ads, and the first primaries are still more than three months away.

"Those numbers really dwarf what we're seeing right now on television," Franz said.
Facebook executives insist their political ad policies are not about the revenue, and the money the company takes in from campaigns is a small fraction of its total profits.
"This controversy is not worth the very small part of our business that this makes up. So, you know, this isn't about money," Zuckerberg told reporters last week.
Still, experts are skeptical the company would be willing to give up the money.
"This is a goldmine every two years," Berkovitz said.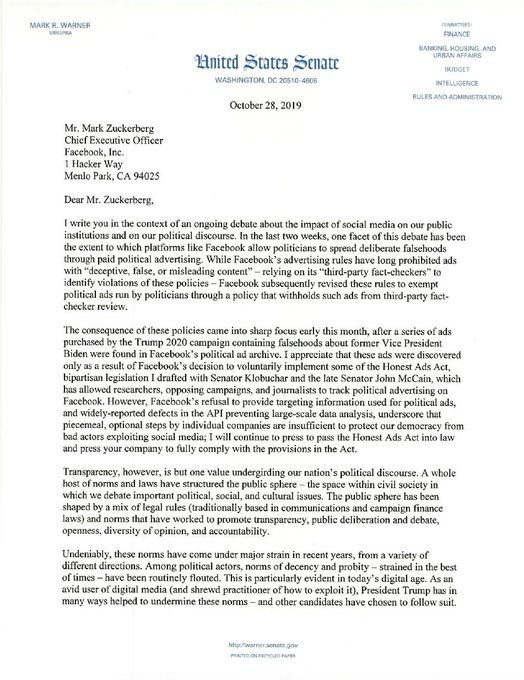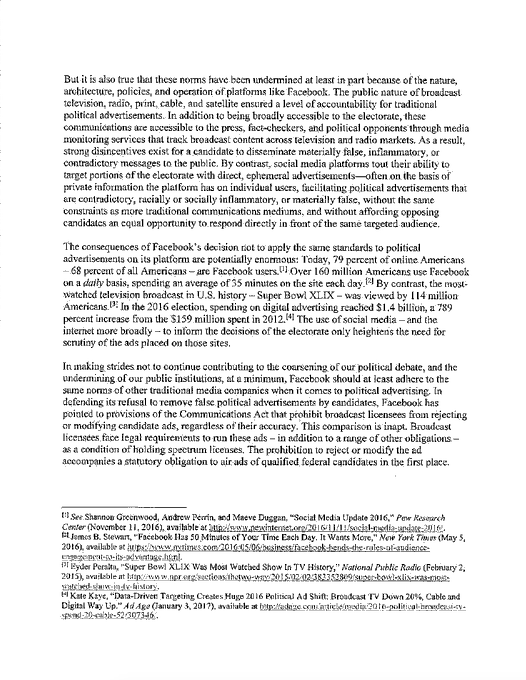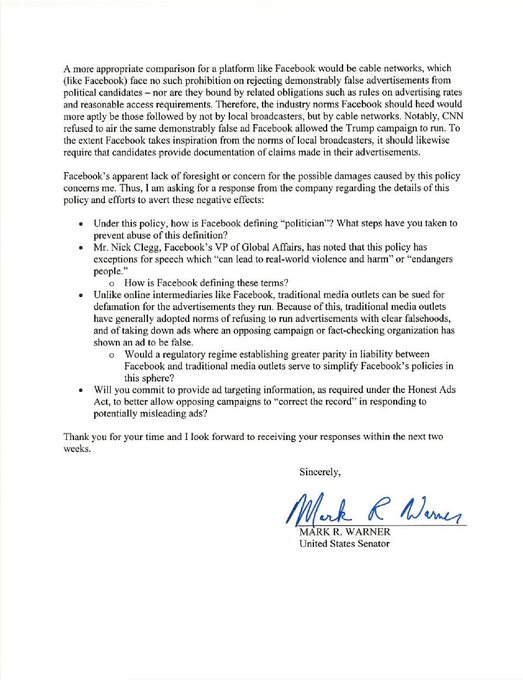 If Facebook is going to use third-party fact-checkers to identify violations of its ads policies, then it can't exempt politicians. If anything, politicians should be held to a higher standard of truth and accuracy.
Much attention has focused on the biggest race in the country heading into 2020, but Meirick noted candidates in local campaigns could be hurt most if Facebook stopped running political ads.

"I know that a lot of campaigns see Facebook and the ability to advertise on Facebook as kind of a godsend, especially for smaller races I don't know that Facebook would necessarily want to forego the revenue that comes from political advertising, but we have seen just how fraught the kinds of targeting possible on Facebook can be," he said.
According to Berkovitz, the debate over Facebook's political ad policy boils down to how much faith one places in American voters to weigh the credibility of content that pops up in their social media feeds. Some think they can, but others look at 2016 and have a whole lot of doubt.
"You either believe in the marketplace of ideas and that the people will come to an appropriate judgment for themselves or you don't," he said.